Congratulatory Message
home
EKC 2016
Congratulatory Message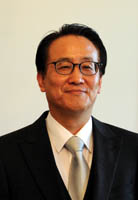 Let me offer my sincere congratulations on the opening of the 9th Europe-Korea Conference (EKC) on Science and Technology 2016 in Berlin. I welcome all participants and guests of this important conference from Korea and all over Europe and express my gratitude to the Korean Scientists and Engineers Association in Germany for organizing this significant event.
The EKC, since its inauguration in 2008, has played a key role in promoting the exchanges of scientists, engineers and industries of Korea and Europe. Berlin, as an emerging focal point of research and development in Europe, is an ideal host to the EKC conference after the last conference was held in the same place four years ago.
We live in an age when any events happening on any parts of the globe can have an enormous impact on our lives directly. So, it becomes more difficult to cope with the challenges facing the world today with the same paradigms that we applied in the past. This is the reason why collaboration and innovation become more indispensable for us to survive this world.
Sharing universal values of humanity and common interest, Korea and the EU have been collaborating with each other over the past 50 years in a variety of areas such as politics, economy and business, culture and science & technology on a bilateral as well as global spectrum.
Building on these establishment, Korea and the EU are now looking forward to further broadening the scope of our relations. At the core is the field of science & technology as it has far-reaching effect on all sectors of our daily life. In light of this, I believe that this year's conference, with the theme "Science, Technology and Humanity: Gateway to the Future" will further contribute to an even closer collaborations between the EU and Korea.

Korea and Germany are also destined to be ideal partner for collaboration in reaching out for innovation which is ceaselessly sought in the global economy today. I believe that the collaboration and combination of their creative and innovative capacities will make both countries global leaders of numerous industries with on-going initiatives of "Creative Economy" of Korea and "Industry 4.0" of Germany. I hope the EKC will provide a useful platform to progress such new industries as artificial intelligence, the Internet of Things, unmanned vehicles, the Cloud and Big Data.
I sincerely hope that, for the sake of a better future, this conference will produce invaluable ideas and break new ground towards innovation for the prosperity of the people in Korea and Germany, further Europe, so that the fruits of innovation can be reaped by the world and all of humankind.

Kyung-Soo Lee
Ambassador of the Republic of Korea to the Federal Republic of Germany